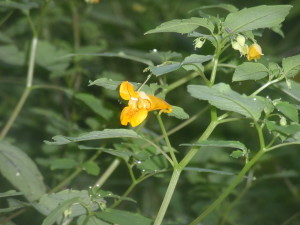 Seeing pictures of Adam and Eve naked in the garden my first thought is they obviously were not allergic to poison ivy. For those of us who are poison magnets we know we can't even go outside without long sleeves on, much less be naked. Since poison is evil, and before sin there was no evil, I am safe to say there was no poison in the Garden of Eden.  Poison is just another reason to groan, Eve why did you eat that apple?
Growing up I wasn't much for playing outside. All I had to do was walk out the door and the poison ivy and oak plants would perk up.  I could almost see those little devils rubbing their leaves together; laughing here she comes let's get her.   I truly believe they must have had darts aimed right at me, because as much as I looked out for it, I always seemed to get it.  Taking the shortcut through the woods to a friend's house meant a week of recovering from the wickedness of poison ivy.  The joy of running barefoot though the grass was followed by a week of itching misery.  Every year I would miss at least one week of school due to one if not all of the poison.  I would get it so bad I couldn't see, much less hold a pencil.  Life outside was not fun.  I cannot begin to count the times I cried or hid in my room, due to poison ivy and oak.
Poison sumac is in a class all by itself and wickedness does not even come close to describing the effects it has on the body.  Sumac hurts from the inside out, and even prescription medicine doesn't help. Two weeks of agony is what you get with or without medicine. How many times have I asked God why poison? Why me?  Why oh why hasn't modern medicine come up with a cure?
Little did I know that the cure was right in front of me.  Growing beside the poison is a wonderful plant called jewelweed.  God as always supplied the need.  "And my God shall supply every need of yours according to his riches in glory in Christ Jesus."Philippians 4:19 (American Standard Version).  When evil comes upon us, God will always provide a way out.  Had I known that precious weed was a miracle cure I wouldn't have mowed it down year after year.  Thankfully, God has patience with me and knew that eventually I would discover His wonderful gift so He allowed it to grow back year after year. So when you visit me and the driveway is lined with what you think is weeds, know that beautiful weed is a gift from God.
And what a gift it is. Jewelweed not only stops the pain, but also prevents you from getting it.  If you think you might have been exposed to poison just pull some jewelweed up break the stem and rub the area with it.  You won't get poison.  If you already have poison, cut the pieces up and cook them until the water is orange.  Let it cool then apply to the area, it will relieve the itching and promote faster healing.  The left over liquid can be frozen in an ice cube tray for later use. The cold jewelweed cubes will sooth your skin. Or you can drink it like a tea, I have not tried drinking it yet.  The coward inside of me hasn't gotten the courage to do so, but I'm told it works wonders from the inside out.  You can also make it into a soap, which I have done.  You can find me selling my little gift from God at local craft shows.
The most amazing thing to me is how God can use a simple weed to bring relief to an itchy achy miserable body.  Can you imagine how much more He can do to a spirit looking for relief.  No matter what evil may have formed against you, know this that God has a plan in place to see you through it.   "No weapon that is formed against thee shall prosper; and every tongue that shall rise against thee in judgment thou shalt condemn. This is the heritage of the servants of the Lord, and their righteousness is of me, saith the Lord." Isaiah 54:17 (KJV)
Good and evil live side by side just like the jewelweed and the poison.   Like unseen poison sin can creep up on us marring our souls with festering sores.  The soul that aches feels defeated, but that is not how God wants us to live. Like poison to the skin so is sin to the soul.  God has sent a cure His name is Jesus and He longs for us to be whole, to be joyful. Call out to God, ask Him to open not only your eyes but also your heart to the wonders He has bestowed upon you allow the relief of an aching soul to be healed by the miracle of God. The answer may very well be staying right beside you.