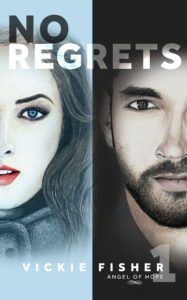 No Regrets
 Inspirational Romantic Suspense.
available at your favorite online store
 Nicholas McFadden and Brittany Fitzpatrick's love story.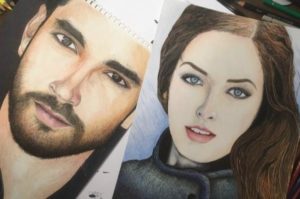 art by Michelle Tangires
Cover by Katie Connolly
Back cover:
Love is a word for fools…
After three long months in Mexico, PSA's top security agent Nicholas McFadden doesn't want another assignment—until he hears Brittany Fitzpatrick's name. Now he knows he can't refuse.
Ten years ago, she almost made him believe in love, until she lied and nearly got him killed. Now PSA wants him to protect her from the very man who attempted to murder them both.
Can he trust her? Or is this just another evil plot by Vincent Capri to finish the job?
Endorsements:
Loree Lough,  I've been a Vickie Fisher fan for a long, long time, so I wasn't at all surprised to find myself enjoying her snappy dialog, cheering every lovable character…and missing them when this exciting, entertaining novel ended. Better ink your "This book belongs to…" stamp, because you're not gonna want to let this one get very far from your 'keepers' shelf. No Regrets is one of the most enticing novels I've read in a long time. (Loree Lough, best-selling author of 115 award-winning books, including 50 Hours.)

"…an excited pace, always something coming around the next page." Carol A. Silvis, author/speaker

"…one of the strongest heroines, because she does stick to her moral code and religious beliefs in the face of her steaming hot love for Nick." Connie C. Scharon, Amazon best-selling author of Enchanted Lover